Happy Dreamer (Hardcover)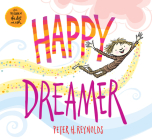 $17.99

Available online. Call store for local availability.
Description
---
The beloved, worldwide bestselling creator of The Dot and I Am Human inspires readers of every age to find their own unique path to happy, and to always follow their dreams. From the beloved, bestselling creator of The Dot, The Word Collector, and I Am Human.Picture book and creativity guru Peter H. Reynolds's inspirational book is a wonderful gift for graduations, new babies, milestone moments, and any happy occasion throughout the year. Discover a universally poignant celebration of the colorful spectrum of what it means to dream and the many ways to find happy! While the world tells us to sit still, to follow the rules, and to color inside the lines, Happy Dreamer celebrates all those moments in between when the mind and spirit soar and we are free to become our own true dreamer maximus! In Peter's signature voice and style, this empowering picture book reminds children of how much their dreams matter, and while life will have ups and downs, he enlists readers to stay true to who they are, to tap into their most creative inner selves, and to never ever forget to dream big!
About the Author
---
PETER H. REYNOLDS is a New York Times bestselling author and illustrator of many books for children, including Happy Dreamer, The Word Collector, Say Something!, Be You!, and Our Table. He is also the illustrator of When Thing Aren't Going Right, Go Left by Marc Colagiovanni. His books have been translated into over 25 languages around the globe and are celebrated worldwide. In 1996, he founded FableVision with his brother, Paul, as a social change agency to help create "stories that matter, stories that move." He lives in Dedham, Massachusetts, with his family.
Praise For…
---
Praise for Happy Dreamer"Empowering. . . As an exploration of emotions, impulses, and creativity, the book would help children identify why they feel the way they do, and help others understand why people may respond to events differently." -- Booklist"Like a roller-coaster ride, Reynolds' text and illustrations capture the energetic side of creativity and the gloom of cleaning up the messes that come with it while providing a wide vocabulary to describe emotional brilliance and resilience . . . A sweet gift to praise spirited individuality, this choice encourages readers to dream big." -- Kirkus Reviews"Reynolds returns to familiar inspirational territory as he celebrates individuality, self-expression, and the joys of being a dreamer...He offers a liberating validation of dreaming as restorative, comforting, and powerful, while giving kids full license to be themselves."-- Publishers Weekly"Celebratory...The digital illustrations feature loose linework and soft, swirling pastels. As in many of Reynolds's books, the text is hand lettered....A lovely graduation gift."-- School Library Journal"Delightful...Unraveling messy thought processes enthusiastically, Reynolds' prose soars. Even the end papers, like pint-size graffiti, have colorful affirmations that children will enjoy decoding . . . Out-of-the-box thinkers will know they are not alone and all will be inspired to become unique 'dreamers maximus.'"-- School Library ConnectionPraise for The Dot* "Simplicity itself, like the dot in the title, this small book carries a big message." -- Booklist, starred review* "In this engaging, inspiring tale, Reynolds (illustrator of the Judy Moody series) demonstrates the power of a little encouragement. . . . Reynolds pulls off exactly what his young heroine does, creating an impressive work from deceptively simple beginnings." -- Publishers Weekly, starred review* "With art that seems perfectly suited to the mood and the message of the text, Reynolds inspires with a gentle and generous mantra: 'Just make a mark.'" -- School Library Journal, starred review" . . . it may speak to formerly artistic young readers who are selling their own abilities short." -- KirkusPraise for Ish*"Ish. . .encourages readers to see the world anew." -- School Library Journal, starred review

"" -

Praise for Happy Dreamer"Empowering. . . As an exploration of emotions, impulses, and creativity, the book would help children identify why they feel the way they do, and help others understand why people may respond to events differently." -- Booklist"Like a roller-coaster ride, Reynolds' text and illustrations capture the energetic side of creativity and the gloom of cleaning up the messes that come with it while providing a wide vocabulary to describe emotional brilliance and resilience . . . A sweet gift to praise spirited individuality, this choice encourages readers to dream big." -- Kirkus Reviews"Reynolds returns to familiar inspirational territory as he celebrates individuality, self-expression, and the joys of being a dreamer...He offers a liberating validation of dreaming as restorative, comforting, and powerful, while giving kids full license to be themselves."-- Publishers Weekly"Celebratory...The digital illustrations feature loose linework and soft, swirling pastels. As in many of Reynolds's books, the text is hand lettered....A lovely graduation gift."-- School Library Journal"Delightful...Unraveling messy thought processes enthusiastically, Reynolds' prose soars. Even the end papers, like pint-size graffiti, have colorful affirmations that children will enjoy decoding . . . Out-of-the-box thinkers will know they are not alone and all will be inspired to become unique 'dreamers maximus.'"-- School Library ConnectionPraise for The Dot* "Simplicity itself, like the dot in the title, this small book carries a big message." -- Booklist, starred review* "In this engaging, inspiring tale, Reynolds (illustrator of the Judy Moody series) demonstrates the power of a little encouragement. . . . Reynolds pulls off exactly what his young heroine does, creating an impressive work from deceptively simple beginnings." -- Publishers Weekly, starred review* "With art that seems perfectly suited to the mood and the message of the text, Reynolds inspires with a gentle and generous mantra: 'Just make a mark.'" -- School Library Journal, starred review" . . . it may speak to formerly artistic young readers who are selling their own abilities short." -- KirkusPraise for Ish*"Ish. . .encourages readers to see the world anew." -- School Library Journal, starred review