Travell and Simons' Trigger Point Pain Patterns Wall Charts (Wallchart)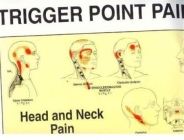 This book is not currently available.
Description
---
Travell, Simons, & Simons' Myofascial Pain and Dysfunction: The Trigger Point Manual
has been hailed as the definitive reference on myofascial pain and locating trigger points. All the upper and lower extremity pain patterns and their corresponding trigger points are clearly illustrated on two convenient wall charts, ideal for patient education.
These charts are designed to function as reference materials to help increase your knowledge about the Trigger Points: Torso and Trigger Points: Extremities.
These charts clearly label the specific muscles that are affected by trigger point, the exact trigger point locations, primary and secondary pain sensitive zones, as well as, origins and insertions on the skeleton for many of the impacted muscles.
Includes two laminated charts
Each chart is 38" x 33"