My Glasses Story: How I Learned to See Myself Clearly (Paperback)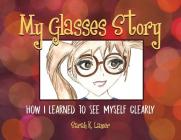 $14.99
Available online. Call store for local availability.
Description
---
Glasses. You know you need them, but you still don't like them.

What if your glasses could talk?
What story would they tell you?

"My Glasses Story" is an imaginative tale encouraging you to see yourself clearly. Maybe your self-confidence could use a pep-talk from the friendly pair of glasses sitting on your nose?

Written and Illustrated by Sarah K. Lanier.
This story comes from her real life feelings and experiences as a child wearing glasses. Children need to know they are special even WITH their glasses. Utilize the helpful tools at the end of the story to start a conversation with a child about their glasses and their feelings.