Go Show the World: A Celebration of Indigenous Heroes (Hardcover)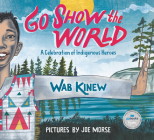 $17.99

Available online. Call store for local availability.
Description
---
"We are a people who matter." Inspired by President Barack Obama's Of Thee I Sing, Go Show the World is a tribute to historic and modern-day Indigenous heroes, featuring important figures such as Tecumseh, Sacagawea and former NASA astronaut John Herrington.

Celebrating the stories of Indigenous people throughout time, Wab Kinew has created a powerful rap song, the lyrics of which are the basis for the text in this beautiful picture book, illustrated by the acclaimed Joe Morse. Including figures such as Crazy Horse, Net-no-kwa, former NASA astronaut John Herrington and Canadian NHL goalie Carey Price, Go Show the World showcases a diverse group of Indigenous people in the US and Canada, both the more well known and the not- so-widely recognized. Individually, their stories, though briefly touched on, are inspiring; collectively, they empower the reader with this message: "We are people who matter, yes, it's true; now let's show the world what people who matter can do."
About the Author
---
WAB KINEW is the bestselling, award-winning author of Go Show the World and The Reason You Walk. An Honourary Witness for the Truth and Reconciliation Commission of Canada and a follower of the Anishinaabe way of life, he is a former journalist, hip-hop artist and television host who was named by Postmedia News as one of "9 Aboriginal movers and shakers you should know." Kinew lives in Winnipeg with his family. This is his first picture book.

Twitter: @wabkinew 56.9K followers

JOE MORSE is an artist living in Toronto, Ontario. Known for his portraits of celebrities and sports stars, his work has been commissioned by Universal Pictures, Nike, Major League Baseball, Rolling Stone, Entertainment Weekly, The New York Times and The Guardian, and has won over 200 international awards. The picture books he has illustrated include Casey at the Bat, which was nominated for a Governor General's Literary Award for Children's Illustration; Play Ball Jackie! and Hoop Genius. He is the Coordinator of the Bachelor of Illustration program at Sheridan College in Oakville, Ontario.


Twitter: @joemorsedraws 498 followers
Praise For…
---
One of New York Public Library's Best Books for Kids 2018
One of Canadian Children's Book Centre's Best Book Covers of 2018
One of Montreal Gazette's Best Books to Give Kids for the Holidays
One of The Colours of Us' 50 Best Multicultural Books


PRAISE FOR Go Show the World:

"This book is inspiring for all children in showing us how these heroes have triumphed over adversity, and is highly recommended to have at home and in the library." --Highly Recommended, Canadian Children's Book News

"It is a call to action and a message of hope for the Indigenous community, as well as a lesson to all readers of the valuable contributions made by American and Canadian Indigenous peoples. . . . This book is highly recommended for personal, school and private libraries." --Highly Recommended, Resource Links

"Kinew quashes stereotypes and provides readers with both historical and contemporary examples of diverse American and Canadian Indigenous leaders. . . . Go Show the World, a powerful and uplifting book, belongs in every school library." --CM Magazine

"The book's message, repeated throughout, still resonates." --Booklist

"A beautiful celebration of Indigenous excellence." --Kirkus Reviews

"The reverberation of the central theme—you matter—and the gorgeous illustrations will resonate with readers" --School Library Connection

"Kinew . . .  underlines the key idea that "we are people who matter./Yes, it's true./ Now let's show the world what people who matter can do."" --Publishers Weekly

"This is a forever book; one that the child can grow with from the youngest age[.]"--Windspeaker

"[H]ighlights true stories relevant to Indigenous and non-Indigenous youth, showing examples of strength and resilience, overcoming adversity, pride, and success to inspire children of all backgrounds." --Teacher Librarian