The Kids' Book of Chess and Chess Set (Paperback)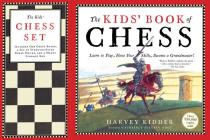 Description
---
A direct, lively introduction to the game that's inspired passion and challenge for over 900 years—for kids ages 8-12.

Everything a child needs to learn how to play chess, hone your skills, and become a grandmaster, including a custom-designed chess board and full set of 32 chess pieces! A 96-page book leads kids through the fundamentals of beginning, middle, and end game, and shows winning strategies for offense and defense. Full-color fantasy art captures the energy and excitement of chess's origins—the medieval battlefield. Over 1 million copies in print. For ages 8-12.
About the Author
---
Author Harvey Kidder, a resident of Westchester County, New York, originally wrote The Kids' Book of Chess for his son.

Illustrator Kimberly Bulcken Root is a graduate of Parsons School of Design. She made her picture book debut with A Bed for the Wind. Her illustrations have appeared in The Nation, Forbes, and The Wall Street Journal. She and her husband, the illustrator Barry Root, live in Lancaster, Pennsylvania.