The Name of All Things (A Chorus of Dragons #2) (CD-Audio)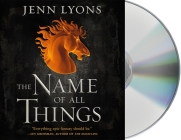 Other Books in Series
This is book number 2 in the A Chorus of Dragons series.
Description
---
"Everything epic fantasy should be: rich, cruel, gorgeous, brilliant, enthralling and deeply, deeply satisfying. I loved it."—Lev Grossman on The Ruin of Kings

You can have everything you want if you sacrifice everything you believe.
Kihrin D'Mon is a wanted man.
Since he destroyed the Stone of Shackles and set demons free across Quur, he has been on the run from the wrath of an entire empire. His attempt to escape brings him into the path of Janel Theranon, a mysterious Joratese woman who claims to know Kihrin.
Janel's plea for help pits Kihrin against all manner of dangers: a secret rebellion, a dragon capable of destroying an entire city, and Kihrin's old enemy, the wizard Relos Var.
Janel believes that Relos Var possesses one of the most powerful artifacts in the world—the Cornerstone called the Name of All Things. And if Janel is right, then there may be nothing in the world that can stop Relos Var from getting what he wants.
And what he wants is Kihrin D'Mon.
Jenn Lyons continues the Chorus of Dragons series with The Name of All Things, the epic sequel to The Ruin of Kings

A Chorus of Dragons
1: The Ruin of Kings
2: The Name of All Things
About the Author
---
Jenn Lyons was a graphic artist and illustrator for twenty years and has worked in video games for over a decade. She previously worked on The Saboteur and Lord of the Rings: Conquest at EA Games. She is based out of Atlanta, Georgia.
The Ruin of Kings is the first installment of the epic fantasy series A Chorus of Dragons.
Dan Bittner
has narrated dozens of audio books and has starred on stage and on the screen, in movies such as Men in Black, Adventureland, and the Producers: The Movie Musical. He has also appeared onstage as Macbeth Malcolm and Sherlock Holmes in the Edinburgh Fringe Festival. He has narrated popular audio books such as The Eleventh Plague, Hero, and Forever.