All Is Not Forgotten: A Novel (CD-Audio)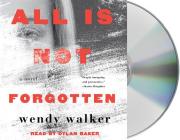 Staff Reviews
---
All Is Not Forgotten by Wendy Walker.
Release date: July 2016 4.5 stars
There is so much to talk about in this book. Confusing at first because you are not sure who the narrator is. A small town, everyone knows everyone. A vicious rape of a 15 year old girl who with her parent permission is given a new drug to make her forget what happened. As her body heals she feels there are holes in her memory that are keeping her from moving on. The whole family is seeing the same psychiatrist, each has their own problems and you cannot help but feel and root for their healing to take place. This is a wonderful thriller with twists and turns that lead to a surprising conclusion. Highly recommend.
— Della McNamara
July 2016 Indie Next List
---
"This powerful and intense psychological thriller explores the memory of trauma and how it affects our very being. When 16-year-old Jenny Kramer is brutally raped and then given a controversial drug to erase her memory of the event, her parents think it will allow them all to return to their normal, idyllic life in an affluent small town in Connecticut. But that is far from the truth. What ensues is a fascinating look at psychiatric treatment and the lies people tell themselves and others in order to feel whole. Secrets are revealed and integrity is tested as, indeed, all is not forgotten."
— Nancy McFarlane (E), Fiction Addiction, Greenville, SC
Description
---
AudioFile Earphones Award Winner

"An assured, powerful novel that blends suspense and rich family drama...it is, in a word, unforgettable." --William Landay, author of DEFENDING JACOB

Wendy Walker's All Is Not Forgotten begins in the small, affluent town of Fairview, Connecticut, where everything seems picture perfect.

Until one night when young Jenny Kramer is attacked at a local party. In the hours immediately after, she is given a controversial drug to medically erase her memory of the violent assault. But, in the weeks and months that follow, as she heals from her physical wounds, and with no factual recall of the attack, Jenny struggles with her raging emotional memory. Her father, Tom, becomes obsessed with his inability to find her attacker and seek justice while her mother, Charlotte, prefers to pretend this horrific event did not touch her carefully constructed world.

As they seek help for their daughter, the fault lines within their marriage and their close-knit community emerge from the shadows where they have been hidden for years, and the relentless quest to find the monster who invaded their town - or perhaps lives among them - drive this psychological thriller to a shocking and unexpected conclusion.
About the Author
---
WENDY WALKER is the author of the psychological suspense novels
All is Not Forgotten
,
Emma In The Night
,
The Night Before,
and
Don't Look For Me
. Her novels have been translated into 23 foreign languages and have topped bestseller lists both nationally and abroad. They have been featured on The Today Show, The Reese Witherspoon Book Club, and The Book of the Month Club and have been optioned for television and film. Prior to her writing career, Wendy practiced both corporate and family law, having earned her J.D. from Georgetown University Law Center and her undergraduate degree from Brown University. Wendy also worked as a financial analyst at Goldman, Sachs & Co. Wendy is currently finishing her next thriller and managing a busy household in Connecticut.
Dylan Baker's first audiobook recording was for The Grapes of Wrath, which subsequently won both Audie and Earphones Awards.  He has since narrated several audio books, including Tom Wolfe's I Am Charlotte Simmons, Walter Isaacson's biography of Steve Jobs, and Michael Lewis's Flash Boys. In 2002, he won an Audie Award for Abridged Fiction for Jonathan Franzen's The Corrections. 

He has appeared in numerous films including Spider-Man 2, Spider-Man 3, Kinsey, Head of State, Thirteen Days, and Happiness.  Baker was nominated for a Tony Award for his Broadway performance in La Bete, and he won an Obie Award for his performance in the 1986 play Not About Heroes.  His television credits include guest appearances on The Practice, Law & Order, and The West Wing.  Baker earned his B.F.A. from Southern Methodist University and a Masters in Fine Arts from Yale's School of Drama. 
Praise For…
---
"In affluent Fairview, Conn., a young girl who's been sexually assaulted is given a drug to help her forget--and the fallout isn't what anyone expected. Twisty and spellbinding."—PEOPLE MAGAZINE

"Deeply intriguing and provocative, All Is Not Forgotten explores intricate family relationships against the backdrop of searing suspense. A novel filled with twists, surprises, and a plot that keeps you guessing. All Is Not Forgotten is not to be missed." —Karin Slaughter, author of PRETTY GIRLS

"An assured, powerful, polished novel that blends suspense and rich family drama. Built on a fascinating scientific premise and laced with moral complexity, it is, in a word, unforgettable." --William Landay, author of DEFENDING JACOB

"Captivating and bold, Wendy Walker takes an incisive look at the importance of memory and the power of manipulation. Fascinating and at times shocking, All Is Not Forgotten is one book you won't easily forget. Not to be missed!" —Mary Kubica, author of THE GOOD GIRL

"With an exceptionally unreliable narrator and unique plot set-up, All Is Not Forgotten is a compelling, thought-provoking mystery that will have you looking at every therapist you know in a brand new light." —Kimberly McCreight, author of WHERE THEY FOUND HER

"In the brutal, heart-pounding All Is Not Forgotten, memory cannot be trusted; when a girl is given "the treatment" to erase her memories of a vicious attack, a small town crumbles under the weight of its secret peccadilloes, dangerous alliances, and the question of what really happened that dark night. A fascinating and compelling novel." —Miranda Beverly-Whittemore, author of BITTERSWEET