The Octonauts: Underwater Adventures Box Set (Boxed Set)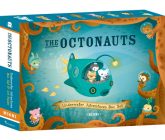 $59.95
Available online. Call store for local availability.
Description
---
Get ready for underwater adventure The limited edition box set includes the four original hardcover books that inspired the hit animated TV series worldwide:
The Octonauts & the Only Lonely Monster
The Octonauts & the Sea of Shade
The Octonauts & the Frown Fish
The Octonauts & the Great Ghost Reef
These stories have never been adapted into TV episodes. The box set will include a special limited edition art piece created by Meomi.
About the Author
---
Meomi is Vicki Wong and Michael Murphy. Meomi enjoys sitting by the ocean, making up stories, drinking tea, and drawing strange creatures. Meomi's characters have appeared in clothing, toys, merchandise, and magazines worldwide. They have also created art and animation for clients such as CBC4Kids, Google, Monterey Bay Aquarium, Yo Gabba Gabba, and the Vancouver 2010 Olympics and Paralympics. Meomi likes sea slugs, yarn hats, and ukuleles. Visit them at www.meomi.com.