101 Ways to Work with an Asshole: (And Succeed Anyway) (Paperback)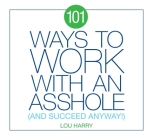 $12.95

Available online. Call store for local availability.
Description
---
101 tried-and-true solutions (that won't get you fired) for dealing with that coworker!

It's time to start strategizing! Get creative with these techniques for dealing with the jackass down the hall, including:

*Protect Your Reputation (page 158) *Explore the Backstory (page 54) *Read Machiavelli (page 150) *Own Your Ideas (page 23) *Keep Your Eyes on the Prize (page 57) *Search for the Win-Win (page 167) *Avoid Social Media (page 42) *Look for Triggers (page 145) *Suggest a Promotion (page 15)

Overcome and outmaneuver your office nemesis with these 101 innovative methods!
About the Author
---
Author, journalist, and playwright Lou Harry has penned dozens of books, which have collectively sold more than a million-and-a-half copies. Titles include The High Impact Infidelity Diet: A Novel, Creative Block, Kid Culture, The Encyclopedia of Guilty Pleasures, the novelization of Santa Claus Conquers the Martians, and The Voodoo Kit. You can find him in Indianapolis Business Journal, Indianapolis Monthly, and more. He lives in Indianapolis.