Read It Again Bookstore is excited to welcome Olivia A. Cole to our online author storytime series!! Join us Sunday, September 6 at 11 am EST to hear Olivia read us her new picture book- Time to Roar!
Time to Roar-
This powerful picture book shows the importance of raising your own strong voice to defend what you love.

Sasha the bear loves the meadow in her forest more than anything. But when great yellow beasts threaten to cut and burn the forest, Sasha and the other animals must find a way to stop them.

"Don't go roaring," squirrel tells Sasha. The bird tries singing sweetly. The rabbit tries thumping to distract them. The deer tries running to lead them away. But none of these things stop the machines. Must they all run and hide? Sasha the bear knows they need something louder, something bigger, something more powerful. And Sasha knows her voice--her roar--is the most powerful tool she has.

Olivia A. Cole's deceptively simple text and Jessica Gibson's vibrant art celebrate the power of learning to raise your own strong voice to defend what you love. Because sometimes you must be a bear. Sometimes you must roar.
You can watch this event here- https://www.youtube.com/watch?v=jiVMNqhMal0
or here- https://www.facebook.com/Read.It.Again/videos/322503758807074/
---
Olivia A. Cole is a writer and mother from Louisville, Kentucky, who is always roaring about the power and magic of girls. She's been telling stories since she was a cub, and believes that each of us has a voice that can be used to save the world. She writes books for young adults and grown-ups too! This is her first picture book.
www.oliviaacole.com
@RantingOwl

Jessica Gibson is an illustrator from Detroit, Michigan, who has loved drawing since she was a little girl. A love for animals, traveling, and reading has always inspired her and led to a career illustrating children's books. Jessica loves how children's books can transport us into a magical world, if only for a moment. She hopes this book inspires readers to not be afraid to use their own strong voices to advocate for something they believe in.
www.jessicamgibson.com
@jessiedrawz
Praise For…
---
"An environmental tale that is sweet, cheerful, and empowering." —Kirkus Reviews

"A tale that is not just about protecting nature, but also about working with others so that every voice is heard." —School Library Journal
Event date:
Sunday, September 6, 2020 - 11:00am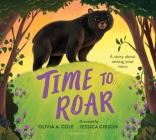 $17.99
ISBN: 9781547603701
Availability: Available online. Call store for local availability.
Published: Bloomsbury Children's Books - September 1st, 2020
---