Read It Again Bookstore is excited to welcome local author Kelly Jordan! Kelly will read her new book, The Little Blue Cottage and a few of her favorite picture books.
You can watch this event here-
https://www.facebook.com/Read.It.Again/videos/2655613501430893/
and
https://www.youtube.com/watch?v=0am27InpA-E
The Little Blue Cottage
The little blue cottage waits each year for summer to arrive—and with it, the girl. Through sunny days and stormy weather, the cottage and the girl keep each other company and wile away the long days and nights together. Until one year, and then another, the cottage is left waiting and empty season after season. In this heartfelt story about change, Kelly Jordan's lilting text and Jessica Courtney-Tickle's lush art captures the essence of cherishing a favorite place.
Kelly Jordan
Kelly Jordan's debut picture book, THE LITTLE BLUE COTTAGE, is set for release May 12, 2020, by Page Street Kids. Her second book, CHASE THE MOON, TINY TURTLE, will follow in 2021. She is a member of both SCBWI and 12x12 and is active in kidlit critique groups, conferences, and workshops. A lifelong lover of words, Jordan is also a freelance writer, whose articles have appeared in such publications as Atlanta magazine, Georgia Travel Guide, Redbook, Southern Living, Paste, Darling, and Flavors. Jordan is a Gulf Coast native and a graduate of the University of Georgia's Grady College of Journalism. She is represented by Stephanie Fretwell-Hill of Red Fox Literary and lives in Decatur, Georgia, with her husband, cat, and dog. www.kellyjordan.com
Event date:
Saturday, May 23, 2020 - 11:30am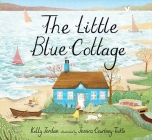 $17.99
ISBN: 9781624149238
Availability: Available online. Call store for local availability.
Published: Page Street Kids - May 12th, 2020
---